Features & its Benefits - IncrediMail File Converter
IncrediMail File Converter - Complete Solution
Product Guide
Download, Install, and Run InrediMail File Converter.
Note: It will automatically fetch the database from the default location of IncrediMail
Or,
You can also import the database from another location by clicking on "Open" button as shown in below given figure.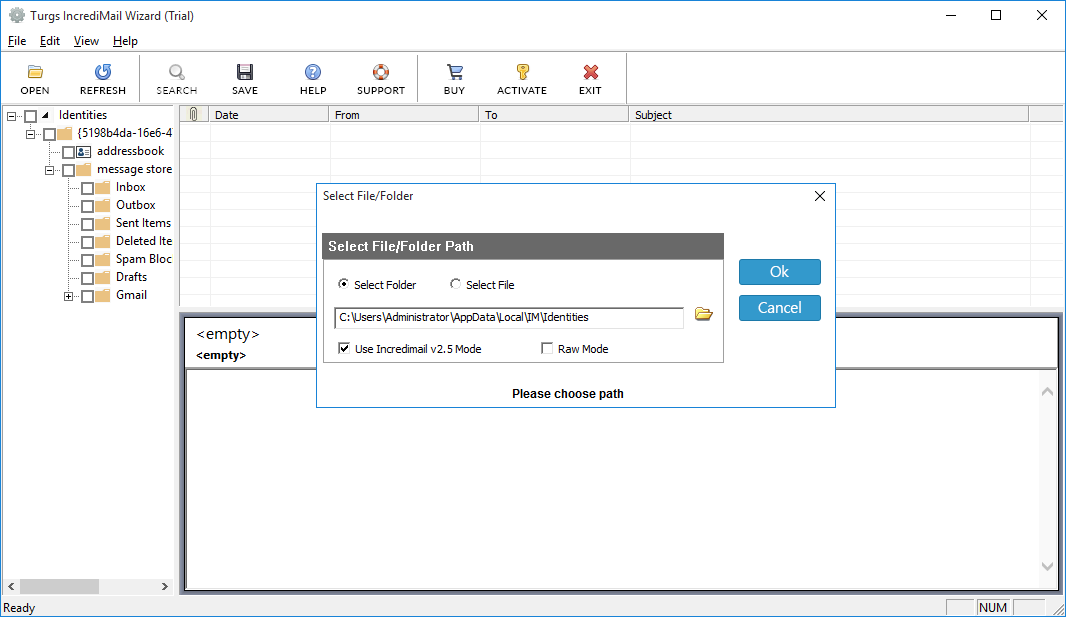 Check preview of emails and contacts by selecting them.
For viewing specific item, click on "Search" button and fill required field according to item.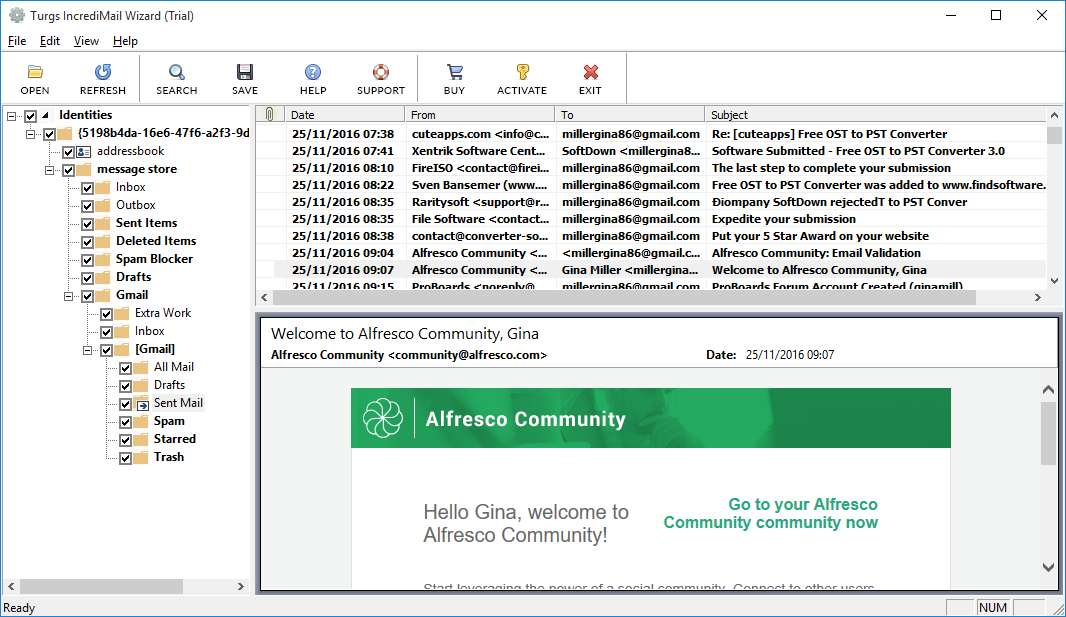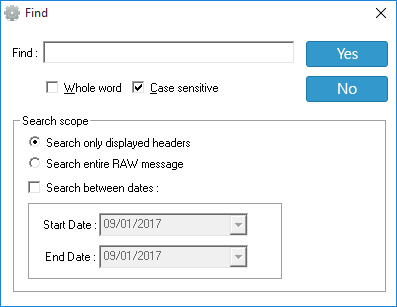 Select required file saving option and then, choose destination path for saving items on desired location.
After selecting destination path, hit on "Ok" button to start conversion process as shown in given below figure.
Note: You can also stop converting items in middle by clicking on "Stop" button. It is also embedded with "Pause" and "Resume" options for large sized database file.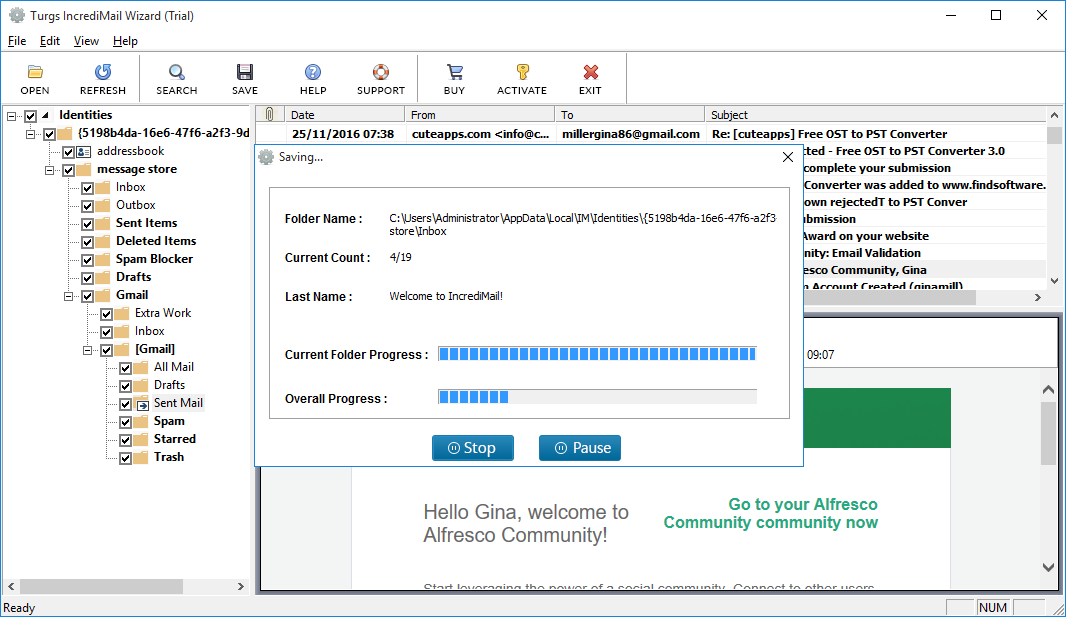 Buy Now
Pro License
For Business purpose:
Multiple saving options: PST, MSG, EML, PDF, HTML, RTF, EMLX, MBOX, MBX, and CSV.

Product FAQs
The default location of IncrediMail database is:
C:\Users\Administrator\AppData\Local\IM\Identities
No, this utility does not require MS Outlook installation to convert IncrediMail messages to PST or MSG file formats. This is a stand alone application that works without any supportive application.
Yes, you can use this application to repair corrupted/inaccessible IncrediMail database but, the recovered database will be in other file formats like PST, MSG, EML, PDF, HTML, RTF, EMLX, MBOX, MBX, and CSV file formats.
Yes, it easily converts IncrediMail Address Book & Contacts into single vCard file. You can also merge multiple contacts from different profiles into sinlge multi-contact vCard file.
ImApp.exe is a file related to IncrediMail that often causes problems. It is not an essential file for Windows to run an application but can be associated with some applications on Windows like IncrediMail. The location of this file is: C:\Program Files\incredimail\bin\).
"Sometimes back I had some problems with my IncrediMail email's client even after purchasing premium version of IncrediMail. They sent me update notice and I updated too, and then, I found corrupted database by funky update and I was unable to open emails. That time I decided to go with some other email's client and one of my friends suggested me to try Turgs InrediMail converter to export database into PST format. Now, I am enjoying MS Outlook. Thanks Turgs team for developing such wonderful utility."
Vincent Reno | France
"Es war sehr schwer zu beenden IncrediMail für mich wegen seiner erstaunlichen Features und lustige Interaktion mit seinem Layout, Emotionen, Animation, etc. Aber nach dem Upgrade meiner Windows 8 auf Windows 10 hatte es aufhören zu arbeiten. Und dann habe ich mit Support-Mitarbeiter von IncrediMail verbunden und sie sagten mir, dass IncrediMail hat einige Kompatibilitätsprobleme mit Windows 10 und ich stecken in der Mitte der Arbeit. Dies war eine schlechte Erfahrung für mich, sondern dank Turgs, die mir IncrediMail-Konverter, mit dem ich konnte auf meine E-Mails mit Microsoft Outlook zugreifen. Der beste Teil dieses Dienstprogramms ist, dass es leicht konvertiert komplette E-Mails und Adressbuch von IncrediMail. Danke noch einmal!!"
Thomas Waltz | Germany
"Eu não sei a data real quando eu estava preso para imprimir e-mails do cliente IncrediMail. Esta é a parte do nosso trabalho agendado que enviamos uma cópia da nossa clientEmail Com Seus artigos encomendados. Eu estava enfrentando um problema para entregar o produto porque a função de impressão da IncrediMail não estava funcionando. Eu tentei outra maneira, mas, ainda sem sorte. Então, meu amigo que trabalha comigo sugeriu tentando Turgs Assistente IncrediMail suportes fez para converter banco de dados IncrediMail para o formato de arquivo desejado. E então, eu me converti meus e-mails necessários em formato de arquivo PDF para poder imprimir e guardar e-mails em formato de arquivo protegido. Incrível ferramenta !!"
Freya Moura | Brazil
Previous
Next